Facilities For Disabled Hotel Guests
The Kimpton Pittman Hotel has rooms that accommodate guests with disabilities. The details below will show you our accessible room types and the features they have.
If you have questions call (800) 546-7866. We are happy to make special arrangements for you, and some advance notice will help us have everything ready.
Check Availability Book Direct on our website.
Our Best Rates + Perks. Always.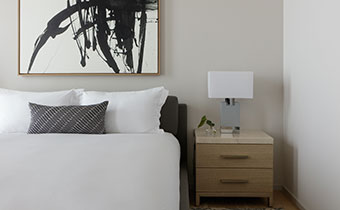 Essential King
1 King-size bed
Custom mattress
Atelier Bloem bath amenities
Soft micro-fiber bathrobes
Accessible tub or accessible roll-in shower
340 square feet
Essential Queen Queen
2 Queen-size beds
Custom mattress
Atelier Bloem bath amenities
Soft micro-fiber bathrobes
Hearing accessible
350 square feet
Historic King Suite
1 King-Size bed
Accessible tub
Custom mattress
Atelier Bloem bath amenities
Soft micro-fiber bathrobes
695 square feet
Historic Queen Queen Suite
2 Queen-size beds
Accessible tub
Custom mattress
Atelier Bloem bath amenities
Soft micro-fiber bathrobes
695 square feet
Epic Suite
1 King-size bed
Accessible roll-in shower
Custom mattress
Atelier Bloem bath amenities
Soft micro-fiber bathrobes
695 square feet