Discover our unique Dallas packages
At Kimpton Pittman Hotel, we're all about elevating your hotel stay, however, we like to do things a little differently. You know, with panache. Signature cocktails? Absolutely, but we like them served poolside with the hottest 2021 must-read and more. Saving on your room tax? We'll do you one better and turn that same amount into a dining credit at Elm & Good. Explore our experiential packages below and take your next stay in Dallas to the next level.
Jump in the Deep End
Take lounging poolside to a whole new level.
This package includes:
Overnight accommodations
Two lounge chair reservations at Deep End during your stay
A $50 dining credit to Chef Dodd's new Deep End menu
Two signature welcome cocktails, served poolside
Pool kit with sunscreen and lotions
LitHub partnership - borrow one of our selected books to read poolside
BOOK NOW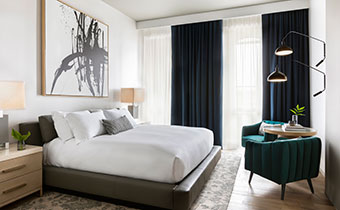 Leisure Escape
Enjoy a much-needed weekend escape from the typical 9-5.
This package (a $95 value) includes:
Breakfast for two
Complimentary parking
Cocktails for two
Late check-out
2 Night Minimum Stay Required
Requires a Friday and Saturday Stayover
No Deposit Required
FREE Cancellation 48 hours prior to your Check-In Date
BOOK NOW